Your Local Guide to 4th of July Celebrations in DC
Happy Independence Day!
No matter what your celebrating style may be, there are plenty of ways to enjoy the Fourth of July!
Whether you are spending time indoors, over a nice family dinner or you're having a big group of friends over for a cozy Summer evening bbq, there is always a way to have a good time.
If you're like us and prefer to go all out on the 4th of July enjoying barbecues, festivals, parades, and firework displays, we've got you covered on DC's best activities.
View a list of the top 4th of July Celebrations in DC for 2018!

Best Places to Watch the National Mall Fourth of July Fireworks
1. Find a spot on the National Mall
2. Experience the fireworks from across the Potomac River
3. Take a family-friendly fireworks cruise
4. Several rooftop bars offer panoramic views of the fireworks
5. Or come hungry, get comfy and watch from ground level
6. Rent some wheels and watch from the Mount Vernon Trail
7. Check into a hotel overlooking the Potomac River or National Mall
8. Watch from the U.S. Supreme Court Plaza
9. Check out Hains Point on East Potomac Park
10. Head to the Washington National Cathedral
11. See all of the District from Cardozo High School
12. Watch the fireworks from a paddleboard on the river
13. You'll find unobstructed views at Lady Bird Johnson Park
14. The U.S. Air Force Memorial provides a great vantage point

National Independence Day Parade
The parade starts at 11:45 am and runs until 2:00 pm
The parade route is one mile in length, starting at the corner of Constitution Ave NW and 7th St NW, and ending at Constitution Ave NW and 17th St NW.
There is some seating available on the steps of the National Archives Building.
Generally, the closer one gets toward the end of the parade route, at 17th St NW, the less crowded it is and therefore it's easier to see the route.

Teddy and the Bully Bar
1200 19th Street NW
Teddy is hosting a cook-out featuring hot dogs, burgers, ribs, pulled pork, fried chicken, potato salad, slaw, corn on the cob, mimosas, and mules. $45 per person for the bottomless barbecue option, $29 for food only. From 2 p.m. to 10 p.m.
Dacha Beer Garden
1600 Seventh Street NW
D.C.'s expanding beer garden is throwing a "Brau, Brats and Freedom" party with DC Brau Brewing Company from noon to 6 p.m. On tap: a corn hole and Jenga competition will special prizes like Dacha and DC Brau swag, and two tickets to see comedian Margaret Cho in concert Friday, July 14 at George Washington University's Lisner Auditorium. There's also an $8 frozen cocktail called Melanie's Blues, made with rum, coconut puree, and lime.
DC Harvest
517 Eighth Street NE
A special Fourth of July brunch includes bottomless watermelon mimosas and bloody Marys from 11 a.m. to 3:45 p.m. Reservations recommended.
Roofers Union
2446 18th Street NW
The Adams Morgan restaurant is hosting a tap takeover with local Hellbender Brewing Company, having five taps pouring drafts for $7 all day. In addition, executive chef Jenn Flynn is offering a pair of specialty corn dogs with chips and a pickle for $10.
The Salt Line
79 Potomac Avenue SE
The newly minted New England-style seafood restaurant is opening early (10 a.m.) to serve drinks and food before the Washington Nationals-New York Mets game at 11:05 a.m. The full menu and plus grill specials will be available throughout the day.
Sixth Engine
438 Massachusetts Avenue NW
Doors open early at 1 p.m. for grill specials including barbecue ribs, smoked half chicken, and half-smokes with sides like potato salad, pasta salad, watermelon, and Mexican street-style corn on the cob. Happy hour runs until 7 p.m.
1905
1905 Ninth Street NW
A roof deck barbecue kicks off at 2 p.m., with chef Joel Hatton cooking up local sausages, grilled portabellos, and sides. Pick three items for a flat $20 at the door (additional food and drink tickets are available for purchase). The party, which is projected to last until 11:30 p.m., includes a view of the fireworks over the National Mall.
Republic
6939 Laurel Avenue, Takoma Park, Maryland
Republic will host the fourth annual Freedom Fest commemorating the repeal of government restriction on beer sales in 2014. Beverage guru Brett Robison is featuring local brewers (think: Hellbender, 7 Locks Brewing, Manor Hill Brewing) that'll be paired with live music and food. Tickets are available online.
Pearl Dive
1612 14th Street NW
Pearl Dive's to-go fried chicken dinner for the holiday includes six pieces of dark meat chicken, jalapeno cornbread muffins, potato salad, coleslaw, blueberry hand pies, a checkerboard tablecloth, and silverware for $35. Pre-order online.
Sugar Factory
1100 S. Hayes Street, Arlington, Virginia
The sweets-focused chain is featuring a special milkshake featuring vanilla ice cream, gummy stars, sprinkles, marshmallows, a chocolate ganache-covered mug, and swirl lollipop ($14). The holiday treat is available from July 1 through July 4.
Hank's Cocktail Bar
819 Upshur Street NW
Head bartender Jess Weinstein has created some holiday-themed drinks, including "I'm a Cool Rocking Daddy, In the USA," featuring gin, ginger beer, grapefruit, and basil.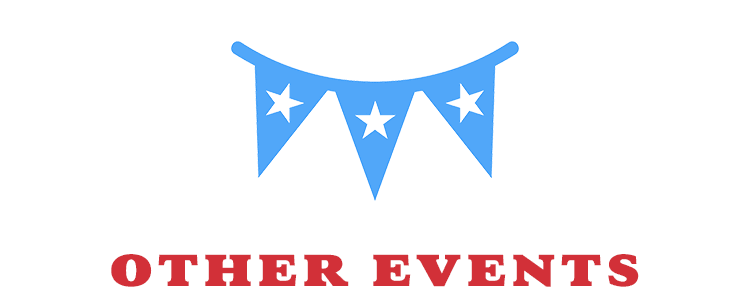 We hope you have a safe and fun holiday!